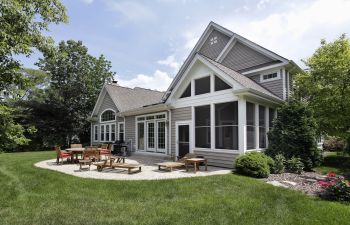 So far, in 2020, life has handed us some extra time at home with our families. Without our normal routines and busy schedules, it is not uncommon for kids to get restless and bored more frequently. Instead of resorting to hours of screen time, here are some creative ways that children of all ages can stay entertained at home, and in your own backyard.
Backyard Activities for Young Children
Whether you have toddlers or elementary-aged kids, your outdoor space is the perfect way to burn their energy. In many cases, young kids just need a little guidance with how to spend their energy. Here is a list of fun outside activities that your kids can do outside while staying within your sight:
Blow bubbles.
Use a ball and sticks and play hockey.
Pretend to "fix" things with play tools.
Scavenger hunt.
Look for bugs and take pictures with a smartphone.
Create art using only items found in nature.
Kick a ball around. Add a stick to turn it into hockey.
Sidewalk chalk.
Backyard talent show or dance-off.
Spread out a blanket and have a picnic, read or do "online school" outside.
Create a fairy garden.
Build a birdfeeder.
Construct a rock drop or maze using paper towel rolls, tape and a fence.
Play Freeze-Tag, "Mother May I?" or Hide-and-Go-Seek.
Create an obstacle course and compete for time.
Plant a garden.
Is Your Backyard Ready for Play?
Does your outdoor space need some attention and TLC before your kids can play? Pannone's Lawn Pros & Landscaping offers a full menu of services, ranging from yard cleanup and seasonal planting to sod installation, flagstone patios, irrigation and more. We have everything you need to maximize your backyard for hours of family fun!