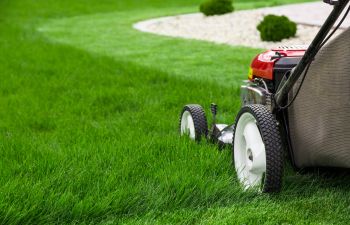 It is no surprise that mowing is one of the most essential tasks to a healthy and attractive lawn. What you may not know, however, is that mowing must be done on a consistent basis to reap all of the benefits. Since proper and periodic mowing can be tedious and time-consuming, many homeowners opt to let a professional handle the job. At Pannone's Lawn Pros & Landscaping, we proudly offer a full range of lawn services, including trimming, pruning, weeding and mowing.
The Benefits of Proper Mowing
Lawn mowing offers many benefits for your property, including those that foster the health of your grass as well as those that improve the overall appearance of your landscape. To reap these advantages, however, lawn mowing must be performed with careful attention to technique and schedule. In terms of technique, there are certain blade heights to adhere to and specific mowing patterns to follow in order to keep your turf healthy and strong. A lawn care expert can tailor your lawn mowing needs to the type of grass you have in your yard.
The Benefits of Consistent Mowing
While it can be tempting to just let your grass grow for long periods of time and cut it when you have time, there are serious setbacks to this approach. Not cutting your grass on a more consistent basis can mean more weed growth on your property. Additionally, regularly scheduled lawn mowing allows the grass blades to absorb more nutrients, hydration and sunlight. This creates a stronger root system that will naturally fight off pests and disease throughout the season. Finally, consistent mowing means you'll keep your turf manicured and tidy, which always increases your home's curb appeal and value.
Call the Lawn Mowing Experts of Cumming
Not able (or willing) to cut your grass as often as you should? Need someone to handle your lawn mowing and other landscaping services for you? Call Pannone's Lawn Pros & Landscaping today!