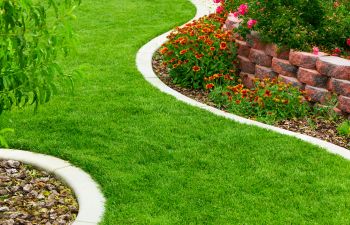 Keeping up with your family's activities can often leave little time to keep up with your lawn. In fact, a well-maintained and healthy landscape can demand countless hours that many homeowners simply don't have. Still, it can be hard to justify the investment of hiring a professional to perform lawn maintenance tasks that you "should" be able to do. But before you miss out on your kid's soccer game to pull out the lawn mower, consider these valued reasons why professional lawn maintenance can make sense for you.
The Many Tasks Performed in Lawn Maintenance
Proper lawn maintenance involves more than just cutting the grass and trimming your hedges. Just like your car, maintenance for your lawn is preventative. Without regularly scheduled care, your landscape is susceptible to a wide variety of issues, including overgrown grass, weeds, turf diseases, pests and more.
At Pannone's Lawn Pros & Landscaping, we customize your lawn maintenance plan to the unique needs of your yard as well as your personal budget. Our lawn care plans can include the following basic services to ensure your landscape is healthy and beautiful all year long:
Routine mowing
De-weeding in beds and turf
Cleaning / blowing off debris and leaves of all hardscaped surfaces
Cleanup in the Spring to remove unwanted winter growth and debris
Cleanup in the Fall to make ready your landscape for the Winter months
The Knowledge and Expertise It Takes
Are you confident in your horticultural knowledge? The average homeowner is not equipped with the experience and training it takes to provide turf management and landscape architecture as well as use landscaping products the correct way. A professional landscaper brings knowledge of the following when maintaining your lawn:
Proper mowing techniques
Plant care and pruning requirements for each plant
Turf and soil types
Proper irrigation
Drainage issues and engineered solutions
Turf aeration procedures
Mulching types and techniques
Fertilization
Turf disease and remedies
Herbicides and pesticides
While hiring a professional for your lawn care maintenance can certainly help you regain hours in your week, it can also protect your landscape from costly problems. The extra landscaping knowledge and experience that a professional can provide can go a long way towards keeping your yard healthy and attractive while also boosting your home's curb appeal. Call Pannone's Lawn Pros & Landscaping today to learn more about our lawn maintenance plans in Cumming.