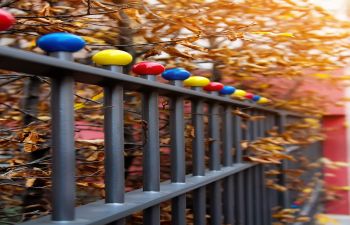 The autumn season brings pumpkin spice lattes, college football and many other fall favorites. While you may be relieved to trade in your flip flops for boots and let the colorful leaves fill your yard, don't forget that the changing season also demands a few maintenance steps within your landscape. In fact, neglecting your outdoor space could sabotage the hard work you've done through the spring and summer if you are not careful.
As the temperatures start to fall, your landscape growth and nutrient demand will also decrease. However, that doesn't mean that you can just leave it alone. In order to ensure your yard is protected through the winter and vibrant again in the spring, take the following maintenance measures sooner rather than later:
Keep a regular mowing, watering and fertilization schedule. You aren't off the hook completely when it comes to lawn maintenance during the fall. For established grasses, you may consider a quick release fertilizer in September and a fall fertilizer in November.
Clean out yard drains and gutters. It's a great time to remove the summer gunk and debris so that falling leaves can be more easily blown away and your drains don't become clogged.
Add new mulch or groundcover. Consider a fresh bag of mulch or pine straw around your plants and flower beds to not only benefit the health of your lawn but to also establish a more manicured landscape appearance for the fall season.
Adjust your irrigation system. The stifling summer temperatures are gone so you won't need to water your lawn as much during the fall. In fact, when late fall approaches, you will need to prepare to turn off and winterize your sprinkler system.
Rather have a professional take care of your lawn this fall? Whether it is due to lack of time or lack of know how, we are happy to take over your landscaping tasks at Pannone's Lawn Pros & Landscaping. Call today to learn our affordable rates and customizable lawn maintenance services.