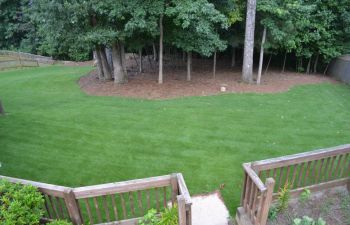 It is no surprise that your grass requires proper care in order to look good and stay healthy. While you may be focused on fertilizing and mowing your grass, edging is another task that can add significant advantages to your lawn. Whether you do it yourself or have a professional landscaper do the job, correct lawn edging can provide the following benefits:
Provides a clean, manicured appearance
Adds value and curb appeal without added expense
Saves trimming time
Protects flowerbeds by providing a root barrier against invasive lawn grasses
Complements and contrasts your house and overall landscape
Edging should be done around all of the grass borders to provide the most manicured look. This includes driveway and curb borders as well as those along your house, flowerbeds and shrubs. Edging can be done first, before mowing, so that the clippings are discarded back into the yard and mulched by the mower.
When it comes to edging your lawn, there are a number of tools you can use. In most cases, it comes down to personal preference. The three main edging options are a manual stick edger (which requires some man power), a "walk-behind" edger (motorized option for easy straight lines) and a motorized handheld edge (easiest to use but requires practiced technique for straighter lines). Of course the other option is to hire a lawn care expert to do the job for you!
At Pannone's Lawn Pros & Landscaping, we offer a full menu of lawn maintenance services, including edging. We can ensure this important service is performed with the best technique and provides the most benefits to your yard in terms of health and appearance.