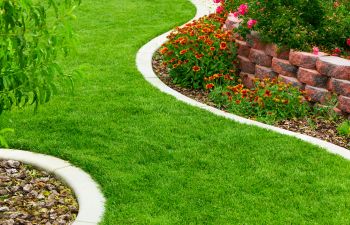 Regardless of its size, your backyard can be a place that you love to enjoy. The right landscaping design is often all that is needed to transform a small, never-used space into a backyard that meets your needs. Here is a guideline of steps to follow to get more out of your small yard.
#1 Clean Up: Homeowners are often amazed at how much bigger their yard really is after a good yard clean up. Trimming your existing shrubs and trees, edging your lawn and cleaning out unwanted brush, leaves, stones and debris can instantly create the illusion of a bigger yard. This is particularly important if you do not plan on clearing out existing trees or bushes.
#2 Think About Your Purpose: Before you begin your landscape design, consider how you want your backyard to be used. Will it be a place for entertaining, a recreation area for the kids, a relaxing oasis or an area to garden?
#3 Work From the Outside In: It is a good idea to work from the borders of your yard to the interior space. Consider your fencing options and whether or not you want a built fence or a natural fencing option. If you are planting trees or shrubs to border your lawn, be sure to select those that are proportionate and not too overwhelming. Your interior can be considered next, which includes any plans for a patio or other hardscape.
#4 Add Flowers: Flowers are an excellent addition to a small space. They do not have to be elaborate. Even a few flowers or hanging baskets can do wonders for the aesthetics of your small space and they provide a colorful, welcoming environment.
To discover the possibilities of your small backyard, it is best to call a professional. You may not be considering the landscape design ideas that could truly transform your space. Pannone's Lawn Pros & Landscaping offers excellent design tips as well as yard cleaning services at an affordable rate.