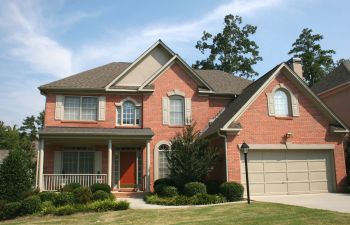 Have you had enough of the pollen this year? If you are among the nearly one-third of Americans who are allergic to pollen, you may find it hard to even be outside, much less enjoy your own yard due to the "yellow curse" that occurs from March to April each year in Georgia.  While the height of pollen season is thankfully coming to a close for 2019, it is wise to consider what you can do to make your spring allergies more tolerable next year.
Beyond taking allergy medicine, you can also help manage your symptoms by touching up your landscape. Here are a few tips to reduce the yellow haze in your backyard next spring and help yourself breathe a little easier:
Fertilize Regularly – The healthier your lawn grows, the more moisture and nutrients it will take from the soil – which means less food for weeds and pollen!
Go With Evergreen Over Deciduous – Evergreen trees stay green all year long compared to deciduous trees that shed their leaves annually and result in higher amounts of pollen. Therefore, choose your trees wisely for your landscape.
Mow Lawn When It's Damp – While there's a chance the damp grass blades may clog your mower, cutting your grass shortly after rainfall can be an easy way to naturally control pollen in your yard.
Use Your Rake Regularly – The more debris and leaves you have across your landscape, the more places for pollen to accumulate and stay trapped.
Avoid Wind-Pollinating Plants – In addition to evergreen trees, consider choosing plants that are not pollinated by the wind. For example, daffodils are pollinated by bees so they are considered more allergy-friendly than plants and flowers that require a strong breeze.
In some cases, seasonal allergies are simply unavoidable. and the pollen count for Georgia doesn't seem to be going down each spring. However, there are some ways to ensure your own backyard isn't completely off-limits for your allergy-ridden family members. For more tips on controlling pollen in your yard, please contact Pannone's Lawn Pros & Landscaping.