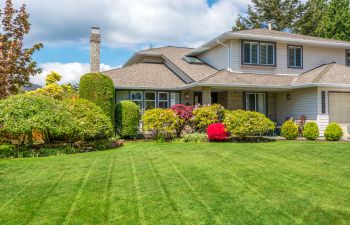 Is your yard a place you can go to calm down? Or does the mere glimpse of your landscape make your stress levels climb? Believe it or not, your landscape can be a valuable tool in helping you cope with everyday stress. And in today's busy society, stress is commonplace.
Tree Density
There are a few different ways in which your landscape can bring down your stress and anxiety. Past research has proven that being around trees can actually lower a person's blood pressure and reduce stress. In fact, a University of Illinois study took this concept one step further to reveal that when tree density is higher, stress recovery is better. How many trees do you have in your landscape? If you're feeling especially uptight, consider adding more tree canopy in your backyard.
Visual Appeal
Another well-studied concept is the association between looking at something attractive or aesthetically-pleasing and feeling calmer and happier in response. If your landscape design is balanced or symmetrical and includes vibrant flower colors, a well-manicured lawn, and other visually appealing attributes, your outdoor space is more likely to be a stress-reliever instead of a stress trigger. For people that are unhappy with the appearance of their landscape or they constantly see what needs to be done, the yard instantly becomes a source of stress instead.
Water Features
Your landscape can appeal to all of your senses, not just your sight. In fact, many homeowners opt to add a water feature in their backyard to capture the relaxing sounds of a creek or soothing fountain. Ask your landscape design expert what your options are in terms of adding a water feature in your yard.
Your stress affects your health, your quality of life and your overall wellbeing. It's important that you do everything you can to bring your stress levels down. A few changes in your landscape could be an easy and effective solution, especially if you enjoy being outdoors. At Pannone's Landscaping & Lawn Pros, we can help. We can create a relaxing and visually-appealing space for you to go when stress is getting the best of you. In addition, we offer a variety of lawn maintenance plans to ensure that your yard stays well-manicured and never adds unnecessary stress to your life.