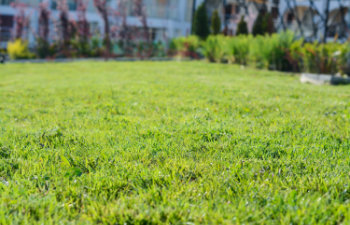 If you've recently installed sod on your property, congratulations. New sod can be a perfect (and instant) makeover for your outdoor space, especially if your lawn was patchy, worn down or non-existent before. To enjoy your new blanket of green grass, however, you'll need to consider what you need to do to keep it looking pristine. New sod requires some specific care tips – especially when it comes to mowing it for the first time.
At Pannone's Landscaping & Lawn Pros, we recognize the minor adjustments in your new sod mowing that can make a big difference it the overall appearance and success of your lawn.
Don't miss these three important rules of mowing freshly laid sod:
Wait Two Weeks
Don't be too anxious to mow your beautiful new grass. In fact, this is one of the most critical rules to follow. When you install sod, you should wait at least two weeks before you mow it for the first time. This allows the roots enough time to establish themselves in the soil and create a strong foundation. Before you start your mower, try to lift a corner of your sod, if there is resistance, you are good to go. If it freely lifts up and separates from the soil, it is not ready for your mower blades.
Reduce Water the Day Before Mowing
Ample irrigation is very important for your sod for the first several days after it has been installed. However, the day before you intend to mow, try to cut back on watering so that it is not too soft and damp to handle the weight of the mower.
Set Mower Blades High
If you are sure your sod is ready for mowing, you'll need to make some adjustments on your actual mower too. Set your mower blades to the highest setting when mowing your sod for the first time. Follow the 1/3 rule when it comes to mowing and never remove more than 1/3 off the top of your grass blades!
Need help maintaining your new sod? Call Pannone's Landscaping & Lawn Pros. We offer affordable rates and knowledgeable services when it comes to your Georgia sod.