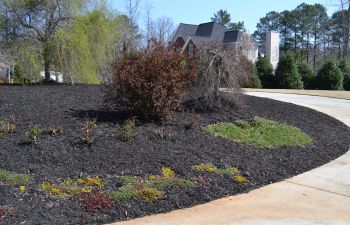 The fall season is closing in and winter is quickly approaching. Are you prepared? More specifically, is your landscape prepared? The fall is the perfect time to give your lawn some TLC while preparing it for dormant winter months. In fact, what you do for your plants and grass before cold temperatures set in can make a drastic difference in how your landscape revives in the spring. Don't make the mistake of waiting or neglecting to prep your landscape for the winter.
Your lawn and irrigation should get a good tune-up and maintenance during the fall. This includes checking your irrigation and drainage in your yard. Due to the increased moisture during fall and the active stage of your lawn's root system, this is a good time to maintain, renovate or replace turf. Thatching, aerating and fertilization should be considered before the winter makes an entrance.
Preparing Your Plants for Cold Months
In addition to enhancements within your landscape and giving your lawn some extra TLC, it is equally important to prepare your plants for the winter. In fact, November is the perfect time to perform these tasks for your trees, shrubs and plants on your property:
Don't Feed Plants
While lawns need to be fertilized in the fall, most plants do not require feeding during this time of year. Plants are approaching dormancy and adding fertilizer could force it to produce new growth, which is vulnerable to damage during freezing temperatures. This could damage or possibly kill the entire plant.
Do Feed Trees and Shrubs
While most plants don't need extra food before winter, deciduous plants are an exception. Your trees and shrubs are storing energy for winter, so the fertilizer you provide will be stored for spring instead of used on producing new growth.
Wait on Pest Control Treatment
In terms of pest and insect control, most treatments should wait until dormancy in the winter. Consider dormant oil, which is an environmentally friendly product that works to suffocate insect eggs that are nesting in trees and shrubs during the winter.
Know Rules for Pruning
This is also an ideal time for most of shrubs and trees to be pruned since their growth period is ending. However, there are some specific varieties of trees and shrubs that do better with spring pruning instead. A landscaping expert can guide you on fall pruning. In addition, you should avoid radical non-selective pruning, or cutting back a shrub to the ground. You don't want to be so aggressive in your pruning that you trigger new (soft) growth that can easily freeze. This kind of pruning can stimulate new soft growth that may freeze.
Weed Control
It is important to kill your weeds before winter dormancy. This will save you the labor intensive task of hand-pulling weeds during the cold months. After you apply weed control, it is beneficial to lay new mulch (or use raked leaves as mulch) to insulate your plants while also keeping weeds away for optimal spring growth.
Need help on preparing your landscape for winter? Call the experts of Pannone's Lawn Pros & Landscaping. We offer one-time lawn services as well as year-round landscaping maintenance. Most importantly, we have a keen understanding of what your grass, trees and shrubs need during each season of the year.