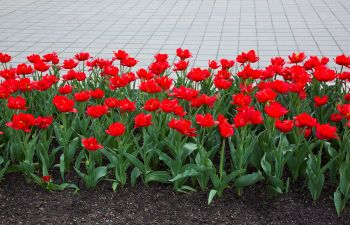 If you own a business or manage a commercial property, your landscape is your first chance to make a good impression. In fact, you can reap significant value by properly investing in your landscape design and maintenance. Not only does a well-maintained landscape reflect positively on your business, but it can also remove hazards and liability issues that you may have with your patrons or clients.
Commercial Landscape Maintenance – Stay On Your Toes!
Just like your residential landscape, your commercial landscape demands year-round maintenance tasks. However, commercial landscaping also involves some extra attention and care. For example, business landscapes often involve more hardscaping, seasonal flower beds, bushes and trees to maintain. In addition, you'll need to also care for areas around property signs, sidewalks, parking lots and more. Unlike your residential property where you can afford to slack off on your lawn care efforts or put off that trimming or mowing for a few days, you don't have as much flexibility with business landscape. You never want your visitors or customers to be the first to notice weeds in your flower bed or long grass along the entryway.
Commercial Landscape Design  – Keep It Simple and Focused!
Unless you are sure you can commit to the extra upkeep, the design of your commercial landscape should be kept simple. It is far better to have a well-manicured simple landscape than one that is overly done but poorly maintained. Don't worry; there are still ways to make your landscape look impressive. Instead of adding ponds, gazebos or fountains, consider installing hardscapes and pavers or mixing in a variety of ground covers with attractive hearty plants. Eye-catching yet "easy to maintain" is key when designing your commercial landscape.
Another important aspect of your landscape design should be your focal point. Decide what area of your property is most profitable for you to showcase, such as the entryway, business sign or a unique feature. You can then design your landscape around this focal area. This can include adding a colorful flowerbed around a sign or strategically lining a walkway with attractive plants.
Hiring a Commercial Landscaping Professional
Are you making the most of your commercial landscape? More importantly, are you using your property as a means to impress and draw in more business? We can help. At Pannone's Lawn Pros & Landscaping, we can use our knowledge and experience to help your commercial property be an asset instead of an eyesore to your business.