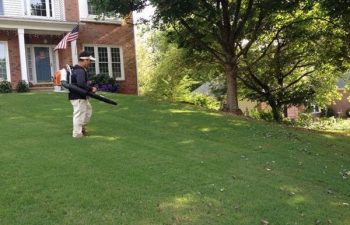 Your landscape is your home's first impression. In fact, it can even be a reflection of the family inside the home. What tone are you setting with your front yard? If you've neglected your landscape due to lack of time or know-how, you may want to consider professional landscaping services. If you've been hesitant to spend the monthly expenses on your landscape, you will feel better knowing the following benefits of hiring an expert to take over your yard:
Quality Service from The Start
If you are trying to let the kid down the street mow your lawn or plant some flowers yourself, there is a high risk of being dissatisfied with the results and being forced to spend more money on fixing landscaping mistakes. This can quickly sabotage the savings you intended by not hiring a professional from the start.
Boost Value of Your Home
Did you know that professional landscaping can add 10-15% to the value of your home? Curb appeal is a major benefit of having a lawn care team, especially if you want to resell your home.
The Right Tools for The Job
Every homeowner can benefit from having some of the basic yard tools like a shovel or a rake, but there are still plenty of landscaping projects that require more specialized (and expensive) tools and equipment. With a professional landscaper on your side, you can trust that they are equipped with all the right tools they'll need to tackle your landscaping needs. (And they know how to use them!)
Experience & Knowledge
How much do you really know about grass, plant varieties and tree growth? There is much more than meets the eye. A landscaping team that brings experience and training to your yard can often detect and remedy issues before they cause disaster, such as a drainage problem or lawn fungus.
Want to learn more about how Pannone's Lawn Pros & Landscaping can bring value to your investment? Call our Cumming team today. A beautiful, healthy and manicured landscape is worth more than you think.