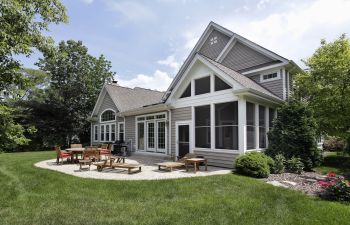 Have the summer afternoon rain showers made your drainage problem all too obvious? Neglecting to implement a drainage solution in your yard can be a quick way for landscape destruction. Consider the cost of regrading or installing a dry creek bed as a valued investment for your overall landscape's health and aesthetics.
Your first step is to acknowledge you have a drainage problem. In doing so, you'll need to confirm signs of erosion or poor water drainage in your yard. Common signs include the following:
Areas of standing water
Soggy grass that doesn't grow well
Mosquito problems
Water stains in the basement
Gutters that gush
Migrating mulch or other ground cover
After you realize that you do indeed have a drainage problem and that your house and yard is at risk, you'll need to call a professional to help you determine the best solution. Erosion control can be as simple as laying some ground cover or as complex as regarding your yard or building a retaining wall.
Don't be fooled into thinking your drainage solution will be eyesore on your property. There are plenty of aesthetically pleasing options that can actually provide more depth and beauty to your landscape. For example, many homeowners choose a dry creek bed as a natural and attractive solution that serves the discreet purpose of redirecting water in your yard.
Pannone's Lawn Pros & Landscaping proudly offers a full range of drainage solutions to homeowners in the Cumming area. We are happy to come out and help you explore the options that may work in your yard. Treating a drainage issue can provide invaluable benefits for your landscape and make your yard a place you can enjoy again.