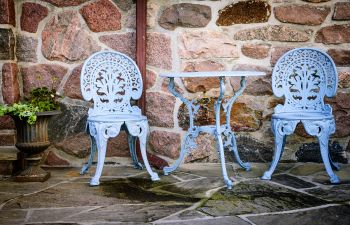 Installing a patio in your yard adds functional and usable space to your backyard while also increasing your property value and outdoor appeal. Patios come in all shapes and sizes, but one of the most important decisions about this hardscape addition is the material that is used to create it. Flagstone and concrete pavers are the two most popular choices for outdoor patio installations. Here is some help in determining which one is best for your home project:
Do you want a more natural look and feel?

When it comes to design, both flagstone and concrete pavers offer a wide variety of choices in color, shape, size and pattern. However, flagstone represents a material made from natural stone such as limestone, slate, bluestone and more. In doing so, flagstone can be considered more like an extension of your existing landscape. When choosing flagstone instead of concrete pavers, you'll get a patio that looks and feels more natural while still being able to customize the overall design.

How much time and money are you willing to spend?

If you are strictly evaluating the cost and labor time of your patio, flagstone will almost always be more than pavers. This is due to the fact that pavers are cheaper per square foot and arrive pre-cut compared to the flagstone pieces that are custom-shaped after they arrive directly from a quarry. However, before you dismiss flagstone as your patio material of choice, you'll need to carefully consider the return on your investment that only natural stone can provide.

Is a low maintenance, high lifespan patio important to you?

When it comes to the sustainably and durability of flagstone versus pavers, flagstone is the clear winner. In fact, flagstone can last forever with only minimal maintenance. The mortar between your natural stone may need replacing or repairing, but the stones themselves offer the highest return on your patio investment. Concrete pavers often need to be resealed, cleaned and even repaired when the ground shifts over time.
Need help deciding what type of custom patio to create? Call our experts at Pannone's Lawn Pros & Landscaping today.