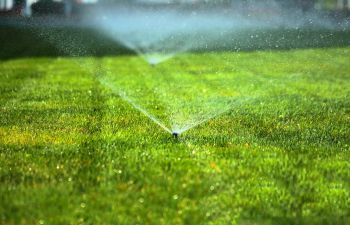 Your irrigation system is critical to the life and beauty of your landscape. If you have invested in an irrigation system for your home, it becomes even more important that it is functioning the way it should, giving you the most out of your investment. Pannone's Lawn Pros and Landscaping specializes in irrigation system repairs and installation. A landscaping professional can accurately determine how your specific irrigation system is failing and what needs to be done to rectify the problem to ensure your landscape does not suffer. By ignoring a potential irrigation system fault or damage, you will eventually pay the price when drainage issues arise or plants start to whither and die.
An irrigation sprinkler valve is commonly the place where your system is malfunctioning. The signs of a valve problem can vary widely, but it is helpful for homeowners to be able to recognize symptoms of an irrigation system fault so you can get the professional repair you need before it's too late.
Leaking – The most obvious cause for concern is leaking water around the valve itself. A professional irrigation expert can determine what part of the valve is leaking (there are many components to a valve), as well as whether the underlying issue warrants a replacement or simple valve repair.
Not Turning On – You may have a wiring problem if your valve is not coming on with the set timer. This problem almost always demands a professional repair.
Pressure Problems – Pressure problems can be the result of insufficient flow through the valve. An irrigation system repair technician will first isolate the source of the problem and then examine to see if all of the valves are affected in the same way. If none of the valves are getting enough water, then the problem may be at the pressure vacuum breaker or the main sprinkler shut-off.
Sprinkler Head Damage – Even a slight nudge can cause disruption to your irrigation system. In fact, even if your head is underground, it can still become damaged and dislodged, which causes faulty function of your sprinkler.
If you suspect that your irrigation system is not working at maximum performance, it is worth every penny to call a irrigation repair specialist to diagnose your problem. Irrigation repair can be difficult to troubleshoot without professional help. Pannone's Lawn Pros and Landscaping offer customers affordable solutions to get your irrigation system working flawlessly before the Springtime and Summer use.