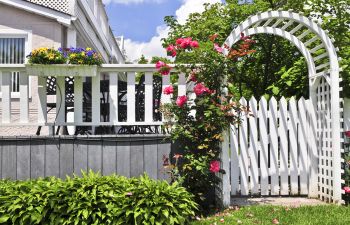 Homeowners are consistently amazed at the way just a few simple landscaping ideas in the front yard can change the image of your home. A professional landscaper, such as Pannone's Lawn Pros & Landscaping, has the knowledge and talent of artistry it takes to suggest and implement what landscape change could benefit your home the most. Regardless of your budget, there are ways to increase a curb appeal for any homeowner. Which one of these landscaping changes would make you happier to pull in your driveway?
Embellish the Entrance
Let your landscaping highlight your entrance or front door. By simply adding some easy-care plants such as boxwood or variegated hosta, you can provide a stylish border to your walkway. If you have a ranch-style home, an arch with vines or a pair of small trees, you can frame your entrance and give your home height.
Color!
Our eyes are automatically drawn to color. While too much color might overwhelm and be unattractive inside your home, the sky is (literally) the limit when it comes to color in your front yard. Bold hues of colorful flowers and plants are an excellent way to enhance a front yard that is limited in space.
Disguise the Unattractive
Do you have a driveway that you do not particularly like? Or perhaps you wish you had more privacy between your home and the street? Utilize shrubbery and plants (they come in limitless sizes, shapes and thickness) to hide aspects of your home that you do not like or to add a buffer for added privacy.
Break it Up
Avoid the tendency to think of your front yard as a block of land between home and street. By adding landscaping design such as soft curves in bordering and perpendicular plantings, you will be amazed at the transformation your front lawn brings.
Because your home is something you see every single day, it is worth investing in. You can choose from one or many landscaping changes in your yard that will dramatically increase its curb appeal. Pannone's Lawn Pros & Landscaping can help you determine which plants and design would work best in your yard, based on your specific style and budget.