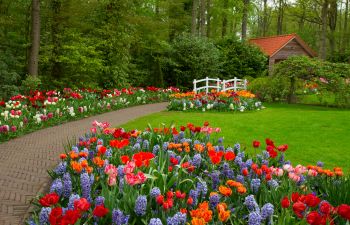 It's been several years since you moved into your new home, and you are finally reaping the shade benefits of mature trees and shrubs in your yard. While this is a welcome advantage of a having an established home and landscape, your grass may not be thriving like it used to. The fact that your turf is now primarily under shade instead of direct sunlight could be a driving factor in why your grass is struggling.
Maintaining a quality lawn in the shade is challenging, but it is possible to have both a shaded and cool outdoor environment as well as healthy grass at the same time. What once worked in the past (when your trees were not full grown) may not work anymore as mature trees cover more sunlight. Here are some ways you can improve you lawn if it is struggling to thrive in the shade:
Irrigating

Since a shady yard is not exposed to the heat of direct sun, the soil will take longer to absorb moisture, yet it will not dry out as fast. Try to water your lawn deeply, yet infrequently during summer dry periods.

Cutting

Managing shaded grass will also involve a slight adjustment in the way you mow it. Typically, you will need to leave your grass height a little higher after a fresh mow because a shaded lawn needs a larger leaf surface to stimulate deeper rooting. This will allow your grass to compete with other types of roots for nutrients and water in the soil.

Fertilizing

Less sunlight inhibits the photosynthesis process. Therefore, your shaded grass may need much less nitrogen to grow than full sun areas. Too much fertilizer can make it more difficult for your grass to manage its nutrient as well as cause disease.
Homeowners who continue to battle a healthy, green lawn under ample shading may also consider making some landscape design changes to allow more sunlight. You can cut tree branches and prune shrubs to open up your landscape canopy. However, remember to do it in a way that does not damage the health of your trees. For assurance that you are taking the right steps, call a professional landscaper. Pannone's Landscaping & Lawn Pros can evaluate your lawn and give you more detailed recommendations on how to improve your lawn under shade.