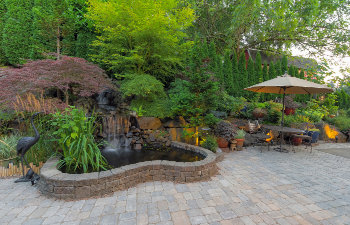 At Pannone's Lawn Pros & Landscaping, we recognize that homeowners want their property to be beautiful as well as secure. Your home should be a place of sanctuary, where you and your loved ones feel safe and protected. Landscaping goes beyond creating stunning curb appeal; it can serve as an essential element in fortifying your property against potential threats. Here are some effective ways to bolster your home security through landscaping.
Illuminate Your Landscape with Lighting
A well-lit landscape is a powerful deterrent to potential intruders. Darkness provides cover, making it easier for criminals to approach undetected. By strategically installing landscaping lighting, you can eliminate hiding spots and make your property less appealing to would-be burglars. Here are some lighting ideas:
Pathway Lighting: Illuminate walkways, driveways, and entry paths with low-voltage LED pathway lights. Not only does this enhance safety by preventing tripping hazards, but it also ensures that anyone approaching your home is clearly visible.
Motion-Activated Lights: Install motion-activated lights around the perimeter of your home. These lights will turn on when motion is detected, surprising and scaring away potential intruders.
Floodlights for Dark Areas: Illuminate darker areas around your property, such as side yards and backyards, with bright floodlights. These lights can be triggered by motion or set on a timer for added convenience and security.
Rock/Gravel Pathways: Beauty and Functionality
Aside from aesthetics, rock and gravel pathways offer additional security benefits. These pathways create distinct and visible routes for foot traffic, directing visitors and potential intruders away from sensitive areas. Here's how you can utilize them effectively:
Strategic Placement: Create pathways leading to your main entrance, backyard, or any other frequently used areas. This ensures that legitimate visitors have a clear route to follow, while also making it apparent if someone is wandering where they shouldn't be.
Crunch Factor: The sound of footsteps on gravel or rocks can alert you to movement on your property, giving you an early warning system against potential intruders.
Low-Maintenance Security: Gravel and rock pathways are relatively low-maintenance compared to traditional paved pathways, making them a cost-effective and practical security solution.
Maintaining Clear Sightlines
Well-maintained landscaping not only adds to your home's overall appeal but also contributes to a safer environment. Overgrown bushes and trees can create blind spots, which burglars may use to their advantage. Ensure your landscaping allows for clear sightlines both inside and outside your home:
Trim Vegetation: Regularly trim bushes and trees near windows and entry points. This prevents intruders from finding hiding spots and allows you to see anyone approaching your home more easily.
Strategic Planting: Consider using thorny or prickly plants near vulnerable areas like fences and windows. Roses or holly bushes can act as natural deterrents and provide an extra layer of protection.
By combining strategic landscaping with thoughtful placement of landscaping lighting and rock/gravel pathways, you can significantly enhance your home's security. A well-illuminated and well-defined landscape will deter potential intruders, improve visibility, and provide you with peace of mind knowing that your home and loved ones are safer.
Turn to Our Cumming Landscaping Experts for a Safer Home
At Pannone's Lawn Pros & Landscaping, we are committed to helping you create not only a visually stunning landscape but also a secure environment for your home. Get in touch with our team of experts to explore the endless possibilities of landscaping for beauty and safety today!