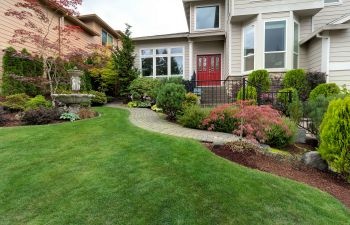 It's no surprise that a well-designed and manicured landscape can boost your home's curb appeal. Whether you are trying to sell your house or want to establish a good reputation in the neighborhood, your landscape matters. Not only can a beautiful landscape make you proud to turn in your driveway, but it can also can increase the monetary value of your home. In fact, reports suggest that an attractive landscape could influence your home's buying price by as much as 10-12%!
Here's some basics on how you can use your landscape to add value to your home:
Have a Plan
Before you start digging, it is important to have a landscape design plan first. This ensures your placement of flower beds and plants don't look disorganized or displaced when you're finished. Hire a design expert and make a sketch of your landscape vision before you do anything.
Add Variety
Don't let your landscape be boring. There are countless plant and flower varieties available to add diversity and appeal to your property. Consider plants and trees of all sizes as well as multiple colors of flowers.
Prioritize Your Turf
Your grass is often the landscaping feature that makes a first impression. Make sure you are maintaining a lush, green and manicured lawn to add value to your home. If you struggle to keep it mowed or avoid brown spots, consider a lawn care service.
Improve Outdoor Living Space
Most real estate agents will tell you that having a comfortable outdoor living space is a sought-after feature for homebuyers. You don't have to have a large property with room for an outdoor kitchen and pool to add outdoor living space. Even small yards can accommodate an intimate sitting area with a fire pit or a small patio for grilling.
How appealing is our landscape? While it is easy to focus on the structure of your home and what is inside when determining its value, don't dismiss the influence that your yard can have on that first impression. Call Pannone's Lawn Pros & Landscaping today and let us boost your curb appeal with our extensive list of services in outdoor design, lawn care and landscape installations.