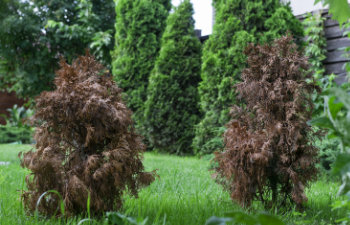 As a homeowner, it's essential to keep a close eye on the health of the trees in your yard. Trees provide beauty, shade, and environmental benefits, but they can also become vulnerable to disease, pests, and natural aging. Spotting a dead or dying tree early on is crucial to ensure the safety of your property and prevent potential damage. To help you identify the signs of a declining tree, Pannone's Lawn Pros & Landscaping in Cumming has compiled a list of key indicators to look out for:
Bare or Discolored Branches
One of the first signs of a dying tree is the presence of bare branches or branches with no leaves, especially during the tree's typical growing season. Additionally, if you notice branches with discolored or wilting leaves, it may indicate a problem with the tree's health.
Cracks or Cavities
Examine the trunk and major branches of the tree for cracks, splits, or cavities. These openings can weaken the tree's structure and provide an entry point for pests and diseases. Significant damage to the trunk may indicate internal decay or structural instability.
Peeling Bark
Healthy trees maintain their bark. If you notice large sections of bark peeling off or missing, it could be a sign of a diseased or dying tree. Bark serves as a protective layer, and its deterioration can indicate underlying issues.
Fungal Growth
The presence of mushrooms or other fungi around the base or on the trunk of a tree is a clear indication of decay. Fungal growth often indicates a more advanced stage of tree decline and may require immediate attention.
Insect Infestation
Pay attention to signs of insect infestation, such as visible tunnels or holes in the trunk, an increase in woodpecker activity, or the presence of sawdust-like material (frass) at the base of the tree. Some insects can cause significant damage and weaken the tree's overall health.
Leaning or Unstable Structure
A visibly leaning tree or one with a noticeably unbalanced canopy may indicate root damage or structural weakness. Trees that pose a risk of falling or causing property damage should be inspected by an arborist promptly.
Lack of New Growth
Healthy trees produce new shoots and leaves each growing season. If you observe a significant reduction in new growth or a general decline in the tree's overall appearance, it may be a sign of underlying health issues.
Call Our Cumming Tree Experts
If you notice any of these signs in your trees, it's essential to consult a professional tree care specialist from Pannone's Lawn Pros & Landscaping. We can assess the condition of the tree and recommend appropriate actions, such as tree removal, pruning, or treatment, depending on the severity of the situation.
Remember, early detection is key to addressing tree health problems effectively and preventing potential hazards. Regular inspections by qualified professionals can help maintain the vitality and beauty of your landscape while ensuring the safety of your property.
At Pannone's Lawn Pros & Landscaping, we understand the importance of healthy trees in creating a thriving outdoor environment. Our team of experts is here to assist you with tree assessments, maintenance, and removal when necessary. Contact us today to schedule a consultation and ensure the long-term health of your trees and the safety of your Cumming property.