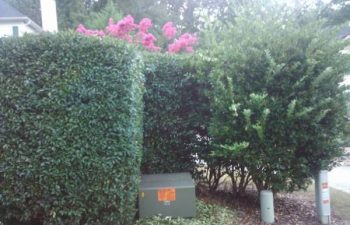 Have you done a mid-summer evaluation of your landscape? Considering our hot Georgia temperatures, it wouldn't be surprising if you had plants with brown leaves, curling edges or crispy ends. Signs of dried out plants can send homeowners into panic mode. It may even cause you to rethink your watering schedule or pull out the garden hose immediately. The truth is, your plants can become dehydrated despite your diligent irrigation efforts. This occurs when plants are simply getting too much direct sunlight. Fortunately, there are some things you can do to protect your Georgia plants from sun damage.
#1 Water Early in the Morning
If you water too late in the day (when temperatures have risen), the heat from the air can pull out the water from your soil and essentially sabotage your labors in irrigation.
#2 Plant Your Seeds Deeper
Since summer temperatures can stay consistently high throughout the day in Georgia, you'll find that your plant roots can stay cooler and more hydrated the deeper they get into the ground.
#3 Add a Shade Cloth or Cover
In some cases, you may need to add your own layer of protection from the sun. Consider placing a shade cloth or row cover over plants that get direct sunlight all day long.
#4 Add a Reflective Mulch
Did you know that there are certain types of mulch that can reflect the sun away from your plants? This saves water, decreases evaporation and helps your plants survive the summer heat. Shredded leaves, straw, dry grass, wood chips and even newspaper have these reflective qualities.
Professional Sun Damage Protection
If you'd like expert advice on how to protect your plants from the scorching sun, call Pannone's Lawn Pros & Landscaping. We understand the strategic methods it takes to help your landscape survive a Georgia summer.