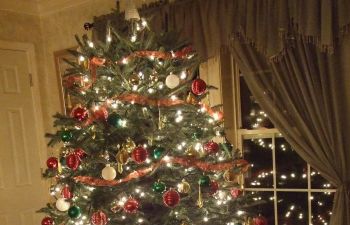 If you are one of the 29 million households in the United States that are putting up a real Christmas tree this year, you need to know how to make it last and keep it looking best. After all, your tree is the center of your Christmas décor and a dying, shedding or malnourished tree can taint your holiday experience.
Here are some tips to ensure your Christmas tree "lives" up to your holiday traditions.
Check the harvest date: If you are cutting your own tree or buying from a local farm, you are guaranteed a fresh tree. However, if you buy a pre-cut tree from a nursery or store, be sure to ask when the tree was harvested.
Cut the bottom: After you bring your tree home, you may notice that the sap from the original cut has sealed over the bottom. This will inhibit the tree's ability to absorb water. To remedy this, remove about an inch or so off the bottom before you place it in your stand.
Keep it watered: Place your tree in water as soon as possible. As a general rule, a typical tree absorbs about a quart of water for each inch of its diameter. Never let the bottom of your tree trunk get dry, which will likely mean daily watering on your part. Although some believe that additives, such as corn syrup, aspirin or preservatives, can keep a tree fresher, there is no real evidence to prove this. Plain water should do the trick.
Place it carefully: You should keep your tree away from direct sunlight, heaters or fans. To further preserve its moisture and vitality, you may choose to use a room humidifier.
Safety first: Never ignore the fire risks of a lighted Christmas tree in your home. Using newer, LED lights can save energy and ensure your lights stay cooler with prolonged use. Don't let your tree dry out or stay close to open flames.
Although we specialize in outdoor landscapes, we are always ready to help our customers take care of the plants or trees they bring indoors. For more Christmas tree care advice, please call us at Pannone's Lawn Pros & Landscaping.