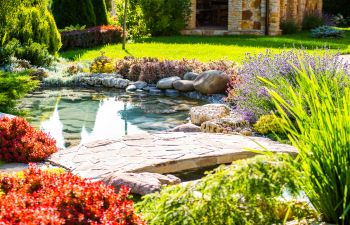 Do you have a place that you can go to escape and rejuvenate when you get home from a busy day? Your backyard can be an excellent sanctuary, especially if you've worked with a landscape design team to create the perfect space.
Why go outdoors? Not only does fresh air and sunshine bring health benefits to your body, but it also has a proven ability to reduce anxiety and improve mood. If you're like most working adults, you don't get enough fresh air in your day-to-day activities. At Pannone's Lawn Pros & Landscaping, we can provide landscape design services to help you make the most of your outdoor space.
Here are some things we may consider when making your backyard a place of relaxation and rejuvenation.
Get Plants in the Ground
Fall can be an ideal time to plant when you live in the south. Most plants do better in the cooler temperatures and the increased rainfall as they are trying to get established and take root.
Add Beauty with Annuals
When it comes to helping you relax, a landscape designer will often suggest adding visual appeal. There are plenty of fall annuals that can add color and beauty to your backyard, such as Snapdragons, Violas, and Pansies. For the minimal maintenance, consider planting in a box or in containers. Be creative and have fun with your flower varieties and layout.
Light Up Your Night
Not sure you can get to your backyard to relax before sundown? Consider landscape lighting. This simple addition can take your landscape to the next level and bring a fresh ambiance to a mediocre backyard. Landscape lighting is a great idea for fall, when days are getting shorter.
Restore and Renovate Your Hardscapes
If all you see are stains on your deck or mold on your patio when you try to relax in your backyard, we encourage you to take the time for some minor renovations. It is common for the rainy and hot Georgia summers to leave blemishes and fading on your patios, decks, sidewalks and other hardscapes. Consider pressure washing, repainting or other restoration tactics for a cleaner and crisper feel in your outdoor space.
Want to revamp your backyard this fall? Let us help. Contact Pannone's Lawn Pros & Landscaping today to talk to our talented landscape design team.