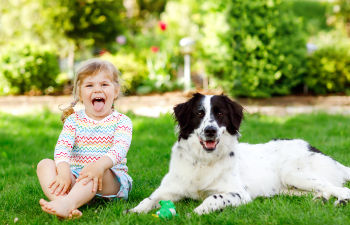 If you like to spend time outdoors in the spring and summer, you can expect pests and insects. While mosquitoes and gnats are a nuisance, there are other insects that can be dangerous – especially if you have kids and pets. Fleas and ticks can be a real threat to your backyard enjoyment. While there is no way to completely safeguard your outdoor space against fleas and ticks, there are some simple things you can do to minimize these insects and prevent infestations.
The Importance of Tick and Flea Prevention
Did you know that ticks are carriers for several diseases, including Lyme Disease? Lyme Disease is caused by a bacterium that lives in mammal hosts like rodents and deer. This disease is primarily transmitted by the blacklegged or deer tick. While infections can occur at any time of year, they are most prevalent in the spring and summer months. Early symptoms of Lyme disease can involve a rash and flu-like symptoms. If not treated early enough, you are at risk for more serious consequences ranging from nervous system disorders and joint pain to heart problems and more. Tularemia and Rocky Mountain Spotted Fever are also diseases that ticks could bring to your loved ones.
Fleas are also insects that like to find a "host" mammal (like dogs) to live. These insects multiply quickly and can create a problematic infestation in your home if preventative steps are not taken. Fleas don't just keep your dog biting and scratching; they can also carry diseases and illnesses just like ticks. Beyond taking your pets to the vet for routine tick and flea prevention, there are things you can do in your own yard to repel these insects.
How Can I Prevent Ticks and Fleas in My Yard?
Fleas and ticks love damp and overgrown areas of your yard. These can be wooded areas that also provide homes for the animals that act as vectors for infected ticks. Keeping your yard tidy, clean and professionally maintained is important for keeping these dangerous pests out of your property and away from your family.
Clear tall grass and brush at the beginning of spring.
Mow frequently and keep the grass at shorter, recommended heights.
Install fencing to deter deer, rodents and other vectors.
Put a mulch or gravel barrier between your yard and wooded areas.
Remove thatch from your yard.
Clean up yard waste and clutter.
Address drainage problems and don't overwater your lawn.
Discuss flea and tick prevention with a lawn care professional.
Pannone's Lawn Pros & Landscaping can help keep your pets and family safe from fleas and ticks this summer. Ask us about our affordable tick and flea treatments for your yard as part of our comprehensive lawn care program.