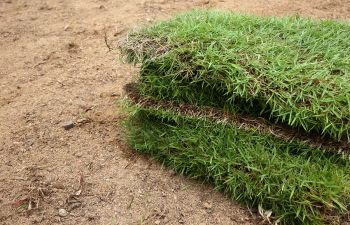 Are you considering new sod installation? Congratulations, you're in for an instant landscape improvement. When it comes to sod, there are several varieties to choose from. Knowing which is best for your particular wants and needs is important. Here are some questions to ask yourself to help you make the right sod choice:
What type of soil do you have? Examine the condition of your topsoil, is it rich or does it have a sandy soil bed?
What is your climate? Certain grasses grow better in high humidity or mild temperatures. Determine whether your climate is cool, warm or transitional.
What kind of grass appearance are you going for? Do you prefer thin or broad grass blades. What color do you prefer? Sod grass can range from pale green to a deep, bluish green color. Also, turf comes in differing heights too – ranging from 1 to 4 inches. What does your ideal grass look like?
Are you sodding a high traffic area? It is very important to consider the amount of traffic your new grass will get. Do you have pets and kids that will be using it a lot? If so, choose a durably variety.
What kind of irrigation and shade currently exist? Your sod type needs to correspond with the amount of sunlight and/or shade it will be getting. You'll also need to consider your irrigation range – are you willing to install additional coverage?
How fast do you need/want your grass to grow? Some sod varieties grow quicker than others. Do you want a lush lawn right away? Or are you willing to wait and have less mowing maintenance on a monthly basis?
Need some professional help? Call Pannone's Landscaping & Lawn Pros. We can help you determine which sod type to invest in as well as install it for you. Our Cumming lawn care and maintenance company specializes in installing all different types of sod including Zoysia (Zeon Zoysia and other types), Bermuda (TifGrand Bermuda and other types) and Fescue.