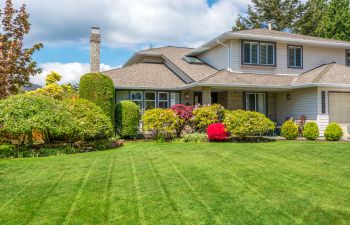 Now that Spring has officially launched, it is time to watch your landscape bloom. If you want to enjoy your garden to the fullest, however, you'll need to spend some time checking your soil quality. Your plants and flowers thrive on water, oxygen, nutrients and sunlight. Considering that three of those four components fall under your soil's responsibility, your soil is worth "digging into".
If you suspect that your soil is below par, try taking steps to build the organic matter in your soil, which can improve your chances at a beautiful, healthy and long-lasting landscape this year.
Organic matter refers to a wide variety of living or dead plant and animal material, ranging from kitchen wastes and shredded leaves to well-rotted manure and compost. Ideally, your soil should be about 5 to 6 % organic matter. That may not seem like much, but it is crucial to the health of your soil. Building organic matter in your soil can provide the following benefits:
Reduces the risk of soil erosion
Stores water in the soil
Buffers the soil pH so it remains stable
Encourages growth of healthy soil microorganisms and earthworms
A great way to build organic matter in your soil is to compost. This is a win-win for your home and your yard. Composting is an excellent way to recycle kitchen waste and it provides amazing benefits to your soil. Compost materials fuel your soil with healthy microorganisms and also helps reduce plant disease and improve drainage. Contact a landscaping professional from Panonne's Lawn Pros & Landscaping for the best compost material to use as well as other healthy soil improvement tips for your specific garden this year.