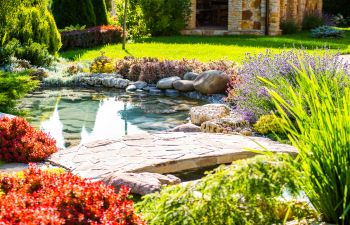 Never underestimate the importance of curb appeal. Your landscape provides astounding benefits for your home value. In fact, a study by the University of Michigan found that consumers value a landscaped home 11.3 percent higher than the same home without good landscaping. The good news is that it doesn't take a big investment to boost your landscape. An investment of just $400 to $500 dollars in landscaping can bring a return of four times that, according to a survey of 2,000 real estate brokers conducted by HomeGain, an online real estate marketing site. Now that we've got you convinced to focus on your lawn's aesthetics, here are some tips that will help you effectively boost your landscape and inevitably boost your property value.
Keep it Manicured: Whether you do it yourself or hire a professional, keeping your yard groomed, manicured and well-kept is vitally important. Nothing hurts curb appeal worse than overgrown trees and a patchy, diseased lawn.
Have a Plan: Don't just dive in without a landscaping plan. A simple consult with a landscaping design team can provide immeasurable benefits and ensure your efforts are not in vain.
Consider Native Plants: Many homeowners are not aware that choosing native plants can cut down on landscaping costs. Plants and flowers that naturally grow well in the area will need less water and less overall maintenance.
Try a Water Feature: The sound of water coming off a small rock waterfall can be the perfect addition to transform your backyard into a relaxing oasis. There are many options available when it comes to water features, ask a professional which ones fit your budget and landscape best.
Plant More Trees: Trees are the perfect solution for providing necessary shade, adding aesthetic appeal and giving privacy to your yard.
At Pannone's Lawn Pros & Landscaping, we understand the significant impact that an attractive landscape has on your home and property value. We offer a full range of lawn services to boost your curb appeal quickly and affordably.