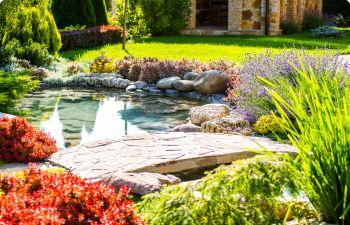 What makes an ideal landscape? While a nice array lawn, flowers, plants, shrubs and trees can create a beautiful scenery, if you want your landscape to also be functional, you should consider adding hardscapes. There are many ways to incorporate hardscapes and make your outdoor space more livable and enjoyable.
Outdoor Home Extension
Your home and living space doesn't have to be restricted to the square footage inside your home. By adding hardscapes to your backyard, you'll find that you can extend your home and maximize your outdoor living space. If you like to entertain and gather with friends and family, consider a patio, outdoor kitchen, fire pit or other hardscape installation that will help your landscape be more functional through all seasons of the year.
Water is an excellent element to introduce to your landscape. Water can create a soothing ambiance, cooling attraction and refreshing oasis while also providing functional hydration to your surrounding landscape. Whether it is a small fountain or eye-catching waterfall, you'll be surprised at the many options and designs that are available to you in outdoor water features.
Hardscape Experts Near You
At Pannone's Lawn Pros & Landscaping, we bring passion and knowledge to your hardscape project. Tell us your vision, and our experts will work hard to customize your hardscape to create a beautiful and livable landscape that you are proud of. Call our Cumming team today to start your design.