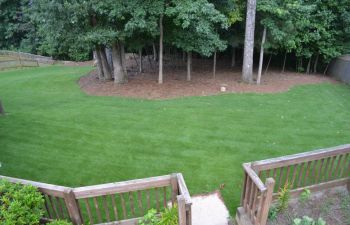 If you are considering fescue as your turf of choice this year, now is the time to plant. Landscaping professionals, such as Pannone's Lawn Pros & Landscaping, suggest early fall as the ideal time for planting fescue because it allows for more growing time under ideal growth conditions. Fescue is considered a cool season grass and it will germinate best when the soil temperatures are between 50° and 65°F, which usually occurs when daytime temperatures are averaging around between 60° and 75°F. When planted properly, you can expect your fescue grass to germinate within two weeks.
What are benefits of Fescue Grass?
Fescue remains a popular choice for shade grass. There are many different types of fescue. A landscaping professional can educate you on which sub-group works best in your yard. There are some types of fescue, such as Fine fescue, that can actually work as a built in herbicide. They emit a specific amino-acid that gets absorbed in the roots of competing plants (such as crabgrass or weeds) and causes them to die. Other types of fescue grass are perfect for homeowners who have poor soil condition. Fescue tends to thrive in rocky, clay or sandy areas.
About Home writer Kelly Burke remarks on the benefits of considering fescue in your yard by stating that "Modern, improved fescue grasses are capable of providing lawns as beautiful as any other type of grass with benefit of shade tolerance, low input requirements and the ability to survive further south than it's cool season contemporaries." Call Pannone's Lawn Pros & Landscaping today to learn how this cool season grass can bring value to your yard.