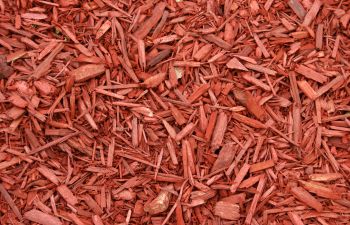 While vibrant flowers, strategically placed plants and lush grasses may be your primary points of discussion in landscape design, never underestimate the importance of mulch. Not only can mulch boost the aesthetic appeal of your other landscape features, it can also serve important functional purposes for your lawn. In fact, mulch can protect the health of your landscape in many ways.
Many homeowners come to us with questions about mulch, ranging from which type of mulch is best, how much to use and when to spread it. At Pannone's Landscaping & Lawn Pros, we welcome the chance to educate you about mulch, as we believe it should be considered as a primary aspect of your landscape design and maintenance.
Here are some FAQs about mulch to help you get started:
How does mulch keep your landscape healthier?

An adequate layer of mulch works to lock in moisture for your soil. The roots of your plants will be well-nourished and protected from harsh weather, and you may even need to water your flower beds less. Mulch also keeps the weeds away, as it blocks the sunlight they need to sprout and grow.

Can mulch help your landscape during a hard rain?

Yes! Without mulch, you may find that your soil washes away during a hard rain or persistent rainfall. This can harm the health of your plants, and disrupt the beauty of your landscape. Mulch can also keep your soil from becoming impacted.

Is mulch important towards the aesthetic value to your landscape?

Absolutely. The "beauty" of mulch is that it provides practical benefits as well as aesthetic benefits. You'll quickly discover that after a fresh layer of mulch in your yard, your landscape instantly looks more manicured and attractive. It can even make your flowers and plants stand out in a visually appealing way.
Need help on choosing the best type of mulch for your yard? We can help. At Pannone's Landscaping & Lawn Pros, we offer many mulch varieties, and we can ensure the correct amount of mulch is laid for your particular landscape.