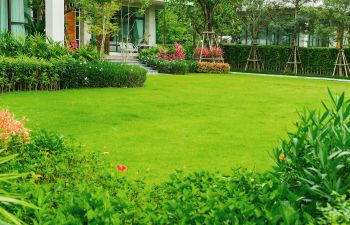 A leading cause of a dying landscape is poor drainage. When rainwater doesn't properly drain off your property, it can cause a host of problems, including, soggy grass, mosquitoes, erosion issues, cracked driveways, settling foundations and more. In such cases, hiring a professional to design and install a drainage system can be one of the smartest investments you'll make.
How can a drainage issue be fixed?
We can't stop the rain from falling on your property. But we can direct it in a way that doesn't harm your landscape and home. That is what a drainage system is intended to do, and there are many ways to do it. Depending on your budget, property layout, personal preferences and the severity of your drainage problem, your solution may include a French drain, dry creek bed, catch basin, grading or gutter downspout extensions.
Is it really necessary to address a drainage issue?
Even if you don't mind soggy grass, poor drainage needs to be addressed in a timely manner. Over time, your property can have erosion issues, shifting mulch, dying plants and structural damage to your home. The excess weight of wet dirt against your foundation can even result in bowing and cracking within the walls of your home.
Will my property be torn up or damaged in order to install a drainage system?
At Pannone's Lawn Pro's & Landscaping, we are careful to minimize disturbance to your home living space when installing a drainage solution. Our team will remove what is necessary to install a drainage system, but we will also replace your landscape finishes to their original (or better) condition. It is not uncommon to remove and re-install sod and plants in order to complete the installation.
Keep in mind that the purpose of your drainage system installation is to protect or save your landscape. If you notice signs of excess water around your property when other yards have already dried up, we invite you to consider your drainage solution options at Pannone's Lawn Pros & Landscaping.