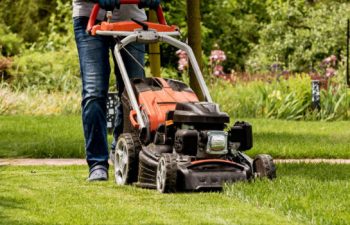 While it may seem like things will never cool off as we approach fall in Georgia, the cool autumn weather will soon come. When it comes to your fall lawn care routine, there's more to consider than raking leaves. In fact, fall can be a perfect time to schedule core aeration for your lawn.
Benefits of Aerating Your Lawn
According to trees.com, lawn aeration is best described as "the process of puncturing the soil with small holes that aid vital elements, such as air and water, to enter the grassroots. This process helps the roots to grow deeply, which in turn produces a stronger and livelier lawn. The main purpose of lawn aeration is to provide air and breathability to your lawn and the soil underneath it."
Core aeration can also help you maximize your other lawn care treatments by allowing weed prevention, fertilizer and overseeding to penetrate deeper into the soil where it is more effective. Additionally, if your lawn has thatch, aeration is one of the quickest ways to break it up and aid in its decomposition before it compromises your lawn health.
Why is Fall a Good Time to Aerate and Overseed?
September and October in Georgia is often an ideal time to schedule lawn aeration and overseeding for the following reasons:
Soil is warmer and looser (making aeration easier)
Weeds are naturally dying due to temperature changes (overseeded grass can thrive easier)
Cooler night temperatures without high humidity (easier for young grass plants to survive)
What is on your "to do" list for your lawn this fall? If you'd rather be watching football or playing with your kids, we are happy to take over your fall lawn care tasks for you. Our expansive menu of services includes affordable lawn core aeration and overseeding. Book a lawn service with our Cumming landscaping experts today.