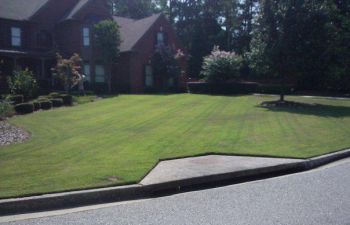 It is November in Georgia and Fall is officially here. There is a little chill in the air and the leaves are starting to turn and fall. When we think of Fall, many people think of football games and Thanksgiving turkey. While these are important events that take place in the Fall, Autumn is also an excellent time to prep your lawn and landscaping for the next growing season. In November, the cooling temperatures slow above ground growth and that combined with the moist soil promotes strong root development. There are a few lawn maintenance things you can do in the Fall to give your lawn and landscaping the best possible chance at thriving in the Spring. Below is a list of suggested Fall lawn and landscaping tasks:
Remove any spent stems and dead branches from your plants. Also, remove the heavy leaf cover from your grass. Removing the dead leaves from your lawn will prevent the leaves from blocking the sunlight.
Aerate your lawn. This will allow water and nutrients to reach the roots of your lawn.
Feed your lawn with a high-phosphorous mix of fertilizer. This will encourage roots so that your turf will green up earlier in the Spring.
Mow your grass one final time. You may want to go a little bit shorter than usual for your final mow of the season. Be careful not to go too low!
Collect any fallen leaves from your yard and store them somewhere they can decompose naturally. The result will be a rich fertilizer that can be used to nourish lawns, flowerbeds and shrub borders during the next growing season.
After your Fall lawn and landscaping maintenance is finished, you can relax in front of a football game and drink a nice hot cup of apple cider. In the Spring, when your lawn turns green and your flowers and plants start to bloom, you will be glad you took the time to maintain them in the Fall.