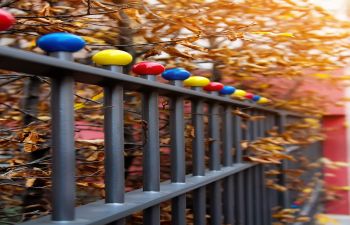 One of the most loved traits about Autumn is the leaves changing color. As you watch the leaves transform from green to a vibrant orange, yellow or red, have you ever thought about why or how this happens? The science found in nature is quite fascinating.
Leaves remain green due a chemical called chlorophyll, which is the same chemical that helps make photosynthesis happen. As the shorter days of autumn approach, the trees "know" that winter is coming. Since photosynthesis does not occur during winter (due to lack of light and water), the trees begin shutting down their food-making process and rely on stored food instead. In doing so, the chlorophyll chemical that makes the leaves green will slowly dissipate.
The browns, reds, oranges and yellows that begin to emerge are simply the colors that have been there all along; the chlorophyll green has just covered them up during the summer and spring! Each tree type has a certain color, such as deep reds for Maple and brown for Oak. Together, they bring out a breathtaking combination of fall foliage colors for us to enjoy. The leaves will begin to turn green again when the days get longer and the trees restart photosynthesis.
At Pannone's Lawn Pros & Landscaping, we have a deep understanding and appreciation for the changing seasons. We offer a full range of landscaping services to ensure your lawn achieves its best appeal during each season. Let us know if you have concerns about your fall landscape!