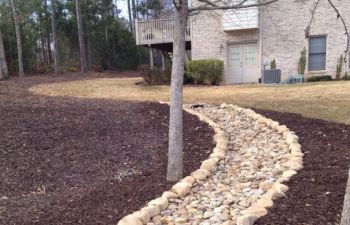 Do you struggle with poor drainage on your property? Every rainstorm becomes a source of anxiety or frustration, as any excess water on a landscape that has improper drainage can bring devastating effects. When rainwater goes in places it shouldn't or pools in certain areas of your landscape for long periods of time, you may lose mulch, plants and the ability to actually use your lawn. Don't let a soggy landscape go untreated. A dry creek bed can save the day!
Dry creek beds are much more than just an assembly of rocks in a ditch. They are carefully engineered and installed to not only improve the functionality of your landscape, but also boost its aesthetic appeal. Dry creek beds are a simple and cost-effective way to solve your drainage issues without compromising the natural beauty of your outdoor view.
What Do Dry Creek Beds Do?
Dry creek beds essentially redirect water to a more acceptable place. They are especially beneficial for landscapes that have a steep slope or hill that makes groundwater a burden. Compared to other options, dry creek beds contain a lot of solid material that makes them able to handle larger amounts of water and move the water more quickly. In addition, they can help to prevent soil erosion– a major savings for your landscape over time!
Planning A Dry Creek Bed
To maximize results and minimize hassle, the design and installation of a dry creek bed is best left to a professional landscaping team. At Pannone's Lawn Pros & Landscaping, we have the experience, skills and tools it takes to complete the task successfully. Unless you're absolutely sure you can properly engineer and construct a dry creek bed, your DIY efforts may cause more harm than good when it comes to your landscape appearance and health.
As lawn care experts, we will carefully map your dry creek bed based on the current flow of groundwater. Next, we will mark the necessary areas for digging. During this step, we will remove existing vegetation and ensure your dry creek bed is as wide as it is deep. Finally, we will strategically fill the bed with coarse sand or gravel as well as natural rocks or stones of your choosing. The goal is to make your dry creek bed look natural and aesthetically balanced with the surrounding landscape, while implementing an effective solution for drainage when rainfall occurs.
Do you think your landscape could benefit from a dry creek bed? Talk to Cumming's most trusted landscapers today!