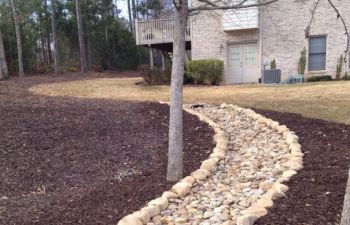 Your landscape is much like your body. While it has health needs and functional demands, it deserves to look attractive too. When considering your landscape, drainage is a primary threat to its health and functionality. However, what if you could solve drainage issues without sacrificing the aesthetic appeal of your landscape. In fact, what if you could improve its scenic value while implementing a drainage solution. A dry creek bed is one of the best "win-win solutions" in the landscaping industry. And it's easy to install and maintain as an added bonus!
When is a Dry Creek Bed Used?
Dry creek beds are used to solve drainage or erosion problems in a yard, which often lead to poor grass growth, standing water, weeds, migrating flower beds and other disruptions. Such properties often have a downward slope where excess water accumulates and flows.
A dry creek bed is an excellent solution for those that want a more environmentally-friendly and natural-looking solution than drainage pipes or retaining walls. Using a strategically dug trench, landscaping fabric and an assortment of rocks or stone, a dry creek bed can effectively redirect the flowing water so that it doesn't compromise the health and functionality of your landscape when it rains.
A Soothing Focal Point in Your Outdoor Space
Dry creek beds offer high rates of satisfaction in terms of logistics, but they offer just as much aesthetic appeal too! In fact, dry creek beds can become a beautiful focal point in your garden or backyard. In most cases, you can custom pick the type of stones or rocks you want, making this drainage solution your very own. In addition, the sounds of water gently running over the stones provides a soothing ambiance to your natural landscape.
Schedule Your Dry Creek Bed Installation
At Pannone's Landscaping & Lawn Pros, we specialize in designing and installing dry creek beds for the Cumming community. We will carefully implement a design that channels water away from your yard and into the street. If a water runoff into your street is not allowed or preferred, we can allow your bed to send water into another area of your land that does not create erosion problems. In some cases, the excess water can filter down into the ground if your soil is sandy enough. We can even create a small pond for your dry creek bed to flow into if you are looking for a more dramatic landscape upgrade. The options are endless when it comes to designing your dry creek bed!
If you'd like to determine if a dry creek bed would solve your specific erosion or drainage problems, please give us call. You'll be pleased to know that maintaining your dry creek bed is easy too, as it requires an occasional blower to eliminate the loose leaves and debris from the bed.