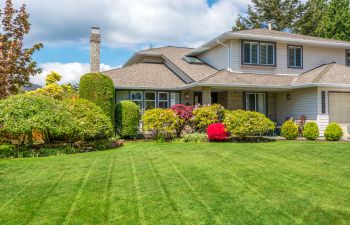 Are you noticing signs of poor drainage around your home? Whether it is bare roots, soggy grass or migrating mulch, water that does not drain properly can destroy the appearance of your landscape as well as lead to some serious damage if left untreated.
The basic cause of drainage issues is simple: water is hindered from moving downhill. Since you can't eliminate water from you landscape if you want to keep it alive, it becomes important to diagnose and remedy those areas in which water is getting stuck or hindered.
When diagnosing the cause of excess water on your property, consider the following common landscape drainage problems:
Low Elevation at the Foundation
Poorly Planned Plant Bed Designs
Bad Grading and Water Traps
Improper Slope on Paved/Hardscape Surfaces
Wrong Gutter Spout Location
Hire a Landscape Drainage Professional
If you want to solve your yard drainage issues as soon as possible, consider hiring a landscaping company. At Pannone's Lawn Pros & Landscaping, we offer a full menu of corrective measures for poor drainage, ranging from dry creek beds and French drain pipes to retaining walls and other erosion control solutions. Hiring an expert can make the difference between solving the problem once and spending extra cash to fix the drainage twice.
Contact our lawn experts in Cumming today to learn more about establishing better drainage in your yard!