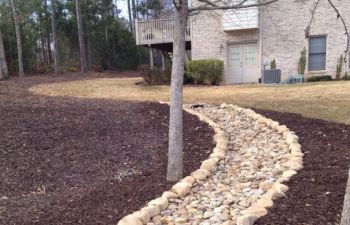 You can have the most well-manicured and beautiful yard in the neighborhood, but if you have drainage problems, your perfect landscape won't last long. Drainage issues are one of the most commonly overlooked landscaping design factors. Many homeowners and business owners attempt a breathtaking landscape design but forget to consider where excess water will drain. Poor drainage can lead to wilting plants and turf, unwanted standing water, displaced groundcover and even building damage. Pannone's Lawn Pros & Landscaping has professionals that can handle mild to severe drainage problems.
If your yard has poor drainage, it could be as simple as regarding your terrain or you may need more advanced drainage solutions such as a retaining wall or French drain. The first step is to find the source of your excess water. This could be anything from a leaky pipe in your irrigation system to a steep sloping terrain in your landscape. Your solution will obviously depend on the source of your problem. Drainage systems are typically divided into three categories:
Surface: An example of surface drainage is the channel drain, which is typically used in paved areas that collect water. Surface drainage systems collect excess surface water from planter beds, window wells, and certain turf areas where water puddles. This type of system uses catch basins, which have a sump area to collect debris so that it does not clog the piping.
Sub-surface: This is an underground drainage solution that carries water away from low-lying areas and into the street or main drainage line. The French drain is the most popular form of sub-surface drainage system.
Downspout: A downspout is an excellent solution if you have problems with water collecting around the base of your house. They are extended through a connection to buried drainpipes, which effectively leads water away from your foundation.
Drainage problems can be very complex and many involve a number of contributing factors. It is best to hire a professional to thoroughly examine your property and present the most effective drainage solution for your specific yard. Investing in a drainage solution should be your first step in creating a beautiful and valuable landscape!