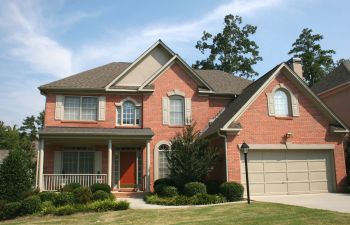 Your landscape can be considered in two distinct parts, your front yard and your backyard. Each space can serve different purposes and will thus have unique landscaping needs. Let's discuss your front yard, as this is the first area of your landscape that visitors see and it needs to achieve certain goals.
Examine your own front yard. Does it meet the following criteria? Or does it need an upgrade?
Welcomes and Accommodates Guests
Your front yard landscape design should set an inviting tone for your guests as well as create a functional space for them to drive, park and walk into your home. This may include a specific turnaround area for cars or a landscape that defines a walkway towards the front door. Gravel, shrubbery and other landscaping materials can help achieve this.
Enhance Curb Appeal
Does your landscape provide visual appeal? Does it establish a focal point at mid-ground level that leads the eye to the entrance of your home? Does your landscape match or compliment the architecture and style of your home? Yes, your landscape can do all that! With careful design and the right materials and plants, your landscape can add curb appeal and increase your home's value.
Create Privacy from Street
While it is important that your landscape enhance your home's appearance from the front, it is equally important that it also provides a desired level of privacy. A front yard landscape can buffer noises and sights from the street with low border beds, hedges, garden walls or screening trees/plants. How much privacy you create is a personal preference and may depend on how busy your street activity is.
How does your front landscape measure up? If you would like to improve your front yard space to welcome guests, enhance curb appeal or create better privacy, call Pannone's Lawn Pros & Professionals. We offer a wide variety of landscaping services to meet the unique needs of every home.