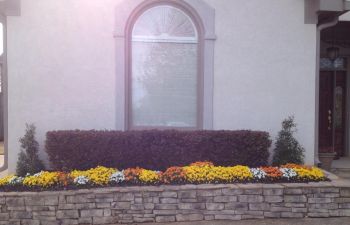 Does the slope of your business property warrant a retaining wall? While installing a retaining wall for your commercial landscape may seem like a burden, you will be surprised at how much this simple addition can improve the functionality and aesthetics of your outdoor space if done properly.
Retaining walls for business owners offer some of the same purposes and benefits as they do for homeowners. However, when maintaining a commercial landscape, the stakes can be even more high since your profits can often be influenced on how your customers and clients use and view your landscape. Not installing a retaining wall for a sloped commercial property could result in the ruin of your landscape, poor aesthetics and even costly erosion or flooding problems.
If a retaining wall is suggested for your commercial property, here are three primary advantages you'll immediately gain:
#1 More Seating and Usable Space

When a property is especially sloped or hilly, it can render your landscape useless to visitors and employees. A well-designed retaining wall, however, can add beauty to your landscape while also offering added seating. Some business owners use the retaining wall as an attractive garden space, while others choose to use the edge of the wall as a bench for customers and patrons.

#2 Avoid Flooding Issues

It is not always possible to predict a heavy rain or storm season in Georgia. If your property elevation is not designed to handle extra rainwater, it could result in flooding and costly damage. A retaining wall can protect your commercial landscape and building from un-budgeted flooding issues.

#3 Protect Against Erosion

A primary purpose of retaining walls for any property is to help prevent erosion, which occurs when soil, rock and other landscaping elements slowly migrate from one area to another. A retaining wall provides a barrier to keep your property from eroding and protect your commercial landscaping investment.
Retaining Wall Installation from an Expert
At Pannone's Lawn Pros & Landscaping, we are proud to handle a wide variety of landscaping projects for business owners in the Cumming area. When it comes to retaining walls, we offer a wide variety of designs and materials, from natural stone to pavers and everything in between. We want your retaining wall to serve a protective purpose while also adding usable space and beauty to your commercial landscape. Call today to get a free quote!