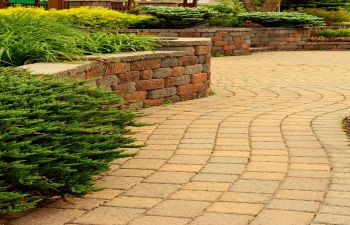 Properties come in all shapes and sizes. While many Georgia neighborhoods are established on flat land, there is still a significant amount of homes that were built on a slope or hill. Whether your home is on a mountain that overlooks water or your front yard has a steep incline to the street, you may need to consider the possibility of a retaining wall if you want to protect your landscape.
A well-constructed and designed retaining wall offers both functionality and beauty. They serve invaluable purpose towards protecting your home and property from damage, but they can also be made to match your unique style and preferences. While some homeowners want to disguise their retaining wall with dark timbers, others may want to make a statement of style with natural stones. There are differences in longevity and cost in each retaining wall option.
The Roles of a Retaining Wall
To confirm you need a retaining wall, you should understand what this landscape addition can do for your property:
#1 Combat Soil Erosion

A hill or slope on your property can lead to erosion over time. As gravity and water take their toll, the soil on the hill will begin to erode. A retaining wall can reduce the angle of the hill and hold the soil from sliding or eroding.

#2 Add Useable Space

Whether in the front yard or the back, a hill can be a difficult terrain to make use of or enjoy. Retaining walls can be constructed to create a flat space in your yard so that you can play, entertain or plant a garden.

#3 Prevent Flooding

Is your steep slope near water? If your property is an area of high risk flooding, a retaining wall can prevent costly damage by controlling the flow of heavy rainfall.

#4 Protect Your Foundation

Erosion on a slope near your home can compact an uphill foundation and lead to repairs.
Call our Retaining Wall Experts
Still not sure if you need a retaining wall? Need help determining which type of retaining wall is right for your needs? Call Pannone's Lawn Pros & Landscaping. We can ensure your landscape retains optimal beauty despite your inclined property.