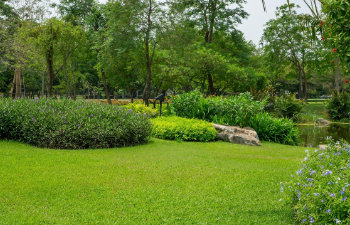 Every lawn is vulnerable to weeds. Unfortunately, weeds can be quick to overtake your turf if you do not have a plan in place. One of the most common ways to battle this unwanted and pesky growth is to spray your lawn for weeds. However, there are some things you can should consider first.
What type of grass do I have?
All herbicides or weed killers are not created equally. It is important to first know what type of grass you have before you select your weed killer. Some herbicides work on centipede but won't be effective on Bermuda, and vice versa.
What do I spray my lawn with?
You won't find a scarcity in weed killer options. Whether you look online or visit your local nursery, you'll find countless products to choose from, including those that are available as a wand, backpack sprayer or hose-end sprayer. Do your research or read the instructions carefully to determine how your grass should be sprayed.
When should I spray my lawn for weeds?
Don't assume that you can spray your lawn for weeds anytime you wish. There are specific herbicides that can be dangerous to your grass if temperatures are too hot. Other times, you may be wasting your product by spraying it when it won't be effective. In most cases, the labeling on herbicides will instruct you on what climate or temperature range is best for application
How much does it cost to spray my lawn?
Spraying your lawn can be more complex than you think. While some homeowners find that it makes sense to buy specialized equipment to take care of their own lawn, our professionals can ensure the job is done with the right product, at the right time and in the right manner.
In general, our lawn care experts recommend multiple treatments to your lawn per year, including a mixture of post-emergent, pre-emergent and fertilization on specific intervals of the season. Because we spray lawns in bulk with large tanks, you can often save money in the long-run by hiring our team at Pannone Landscaping & Lawn Pros. Call today to get a quote for weed prevention and lawn maintenance services in Cumming.