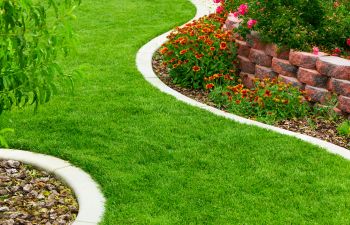 Spring is just around the corner in Georgia, which means it is time to start thinking about your lawn. Whether you have new visions for your spring landscape or your lawn needs help recovering from the winter, now is the perfect time to take action.
Here are four helpful tips to support a vibrant and healthy lawn this spring:
#1 Clean Up and Clear Debris

If you are like most homeowners, you haven't given your yard much attention in the past few months. While your grass does go dormant during cooler temperatures, you'll need to do a thorough yard clean-up before your grass starts to revive. Remove any tree limbs, rocks, leaves, sticks and other debris that may be suffocating your lawn and endangering your lawn mower.

#2 Check for Damaged Areas

Once you've cleared your yard, you should be able to easily spot areas of damage. This could be mulch that has migrated, pools of water, compacted soil and other lawn issues that need to be addressed sooner rather than later. Grading your yard or aerating your grass can be important steps if you have areas of damage and want your landscape to thrive in the coming months.

#3 Sod and Fertilize

Do you have areas of grass that have become barren? Do you want to try a different type of grass in your yard? Spring is perfect time to sod! The coming rain along with extra fertilizer treatments can allow your new sod to take root fast and grow successfully.

#4 Be Conservative with Mowing

You may be anxious to drag out your John Deere mower after months of hibernating in the garage. However, don't be too quick to mow, and definitely don't be too aggressive. Mowing too early can damage your grass and mowing too short will deprive the blades of the necessary photosynthesis process that needs to occur as it wakes up for spring. Three to four inches is ideal for early spring.
Need help preparing your lawn for spring? Call the experts of Pannone's Lawn Pros & Landscaping. We are here to meet your landscaping needs with affordable and customizable lawn maintenance plans.