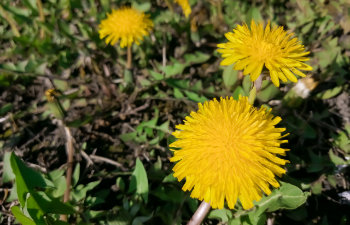 When dandelions pop up in your yard, it can be a cheerful sign of spring color compared to the recent lackluster months of your winter landscape. However, dandelions don't always retain their warm welcome. Many homeowners find that dandelions are too persistent and stubborn. At Pannone's Lawn Pros & Landscaping, we can help you with dandelion management and/or removal so that you can keep a purely green lawn this season.
Facts About Dandelions
Whether you appreciate dandelions or consider them your lawn enemy, it is important to get to know them. Here are some facts about this persistent yet common plant so that you can better understand what you are dealing with:
Dandelions, also known as Taraxacum officinale, are perennial plants.
They draw nutrients from the soil through a single taproot.
They belong to the sunflower family.
New seedlings can germinate in less than an inch of earth.
Each dandelion flower head produces between 150-200 seeds and can spread quickly.
Dandelions have an important role within their ecosystems.
Like many so-called weeds, dandelions are actually an herb.
The entire plant is edible.
Dandelion has been used to reduce inflammation, promote heart health, and balance blood sugar.
Removing Dandelions Without Chemicals
Not everyone is willing to apply chemicals or herbicides in their yard to remove dandelion plants. Fortunately, dandelions can be eradicated from your yard organically, or by pulling them by hand. Pulling dandelions is an effective way to clear your lawn, but it does require some hard work and dedication.
It is best to wait for the soil to be soft and damp, such as after a rain. A weeding tool can be used to loosen the dirt around the taproot. It is important to gently pull the dandelion and remove as much of the taproot as you can to prevent regrowth. If you have bare spots in your lawn, consider planting new grass to prevent the further spread of dandelions.
Schedule Affordable Lawn Care in Cumming
Need help dealing with the dandelions in your yard this spring? Call Pannone's Lawn Pros & Landscaping. Our team will consider your personal preference for organic lawn treatments and provide an effective solution for dandelions and weeds that may be overtaking your turf this season.