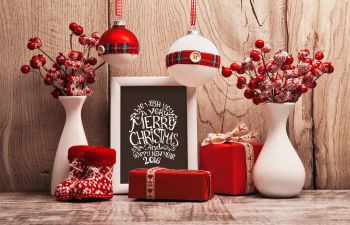 While the cold temperatures may prevent you from enjoying your plants and flowers outdoors, that doesn't mean you can't bring some seasonal favorites inside your home this season. In fact, there are several holiday plants that are commonly used to brighten the interior of your home and give your space a festive touch when your outdoor landscape looks bleak. However, if you have indoor pets, you may want to consider your interior plant selection more carefully. Vomiting and other adverse health effects can occur when your dog or cat ingests certain holiday plants.
A sick pet and unexpected vet bills can quickly zap your holiday spirit. Therefore, it is important to know which holiday plants are toxic to your furry friends before you bring elements of your landscape indoors. Pets are curious, so don't be too sure your four-legged companion won't investigate a new smell or taste lingering inside your home.
Which Plants Can Harm Your Pets?
When it comes to popular holiday plants, there are some vibrant colors and scents to choose from. However, if you have a dog or cat, the following plants should be avoided or put on a shelf that is inaccessible:
Poinsettias. One of the most sought-after holiday plants contain a sap that can irritate the lining of the mouth and esophagus and cause vomiting.
Holly berries. These can be the perfect finishing touch to your holiday décor, but holly berries and their surrounding leaves can trigger gastric issues in pets like vomiting, diarrhea and belly pain. In large amounts, it can cause appetite loss and even depression.
Mistletoe. Kissing under this holiday plant may be a family tradition. But you'll need to make sure your mistletoe is securely hung high in your doorway, as it is known to be severely toxic to pets. In fact, if your pet ingests mistletoe, you should go straight to your vet.
Pine tree needles. Like having a real Christmas tree? You should know that pine tree needles can be toxic and cause irritation of a pet's mouth. In addition, the water at the base of your tree is often filled with bacteria that shouldn't be confused with your pet's water bowl.
Lily. Any part of this plant can harm your pet, but a swallowed lily can be fatal for cats.
Other Tips for Protecting Your Pets
If you have a chew-happy puppy or a curious cat, you may want to opt for faux holiday plants this year. However, many homeowners are still able to enjoy the scents and sights of these seasonal plants by placing them out of reach and restricting their pet's roaming space. If you are unsure about the toxicity of a certain plant or flower, call an expert at Pannone's Lawn Pros & Landscaping. Our horticulture knowledge can keep your four-legged friends safe this holiday season!