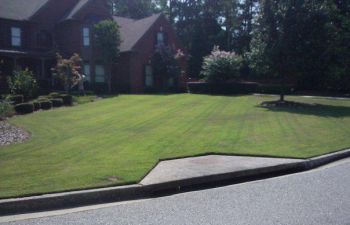 Many homeowners struggle with poor drainage in their backyard. Whether it is from a bad slope or poorly compacted soil, erosion and drainage issues can quickly ruin a beautiful landscape. At Pannone's Lawn Pros & Landscaping, we are equipped to offer a number of solutions for your poor backyard drainage. While we can regrade your property or install a dry creek bed, some customers find a rain garden to be the perfect solution.
A rain garden uses water runoff to strategically cultivate plants. This is a way to embrace the extra water and use it to enhance your landscape and even attract birds. Location is very important when creating a rain garden. It needs to be proper distance from your home so that the drainage doesn't accumulate near your foundation. You'll also need to be sure it isn't going to interfere with your septic system. Lastly, your rain garden site needs to have full sun exposure for 4-6 hours of the day so that its plants can thrive.
Types of Rain Gardens
There is more than one type of rain garden. Under-drained and self-contained are the two broad categories. Under-drained gardens are ideal when you want rainwater to drain into a storm pipe or when erosion control is important. With a self-contained system, the water is pooled rather than drained off.
What to Plant in a Rain Garden
Your rain garden should have several "zones." These will each hold water for varying amounts of time and thus require different plant varieties that thrive in that specific environment. For example, you may have a Hemlock tree in your first zone because it can survive under heavy flooding. Your zone 2 will still hold water for several hours and may support an inkberry shrub or similar plant variety. For the transitionary zone 3, witch hazel or butterfly weed may be ideal choices.
Don't worry; if installing a rain garden seems too overwhelming, you can consult our lawn experts. At Pannone's Landscaping & Lawn Pros, we do our best to listen to your goals for your landscape and help you implement them in the most cost-effective way. If a rain garden is how you want to address your backyard drainage, we are ready to help.