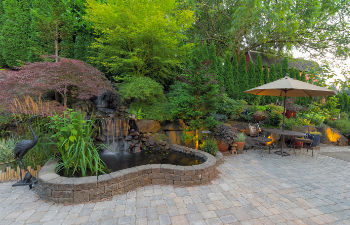 Georgia is known for summer heat. This can make afternoon thunderstorms a welcome occurrence for those who are trying to survive the hot weather. While the occasional "pop up" summer shower can be an excellent way to cool things off, it can also reveal some telltale signs that you have a drainage problem in your landscape. Summer thunderstorms are known for dumping a large amount of rainfall in a short amount of time. Is your landscaping handling this extra moisture or is it being ruined?
Poor drainage in your yard can not only ruin the health and appearance of your landscape, but it can also limit the way you use your outdoor space. Does one strong shower force your kids to play inside for days due to a muddy or soggy lawn? Installing a drainage solution can be one of the best investments you make this summer.
How can you tell if you have a drainage issue? Here are some common warning signs of erosion and poor drainage in a landscape?
Areas of standing water
Soggy grass that doesn't grow well
Mosquito problems
Water stains in the basement
Gutters that gush
Migrating mulch or other ground cover
Helping Your Landscape Handle a Hard Rain
Depending on your specific needs and budget, there are a wide range of drainage solutions available. Controlling your erosion and solving drainage issues can be as simple as laying better ground cover or creating a dry creek bed, or it may involve re-grading your property, installing a French drain or building a retaining wall.
At Pannone's Landscaping and Lawn Pros, we have the skill, equipment and availability to solve your Georgia draining problems the way you deserve. We want your summer landscape to not only thrive but also be used as much as possible. Don't let afternoon thunderstorms steal your outdoor enjoyment.