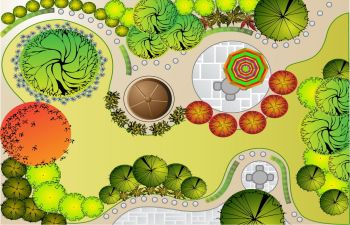 Whether you own a retail center, a restaurant or corporate building, the appearance of your commercial landscape can work for or against you. An unkempt or poorly designed landscape can be a quick detour for tenants, customers or even potential employees. One of the most common landscaping mishaps that we see on commercial properties is empty and neglected areas of mulch.
What can a ratty and bare mulch bed offer your business? Not only are you wasting valuable space, but the site can be very unattractive. With no plants and flower to pop through your mulch, the area doesn't offer any visual appeal and is likely to be full of weeds. Instead of spending your time and money killing weeds out of an empty mulch bed, consider the following ideas to transform this space within your commercial landscape:
Outdoor Seating and Picnic Space

An easy and very charming way to use your empty mulch bed space is to add seating for your patrons and visitors. A swing, table or bench can add visual appeal while also providing a functional amenity on your commercial property.

An Area of Family Fun

Depending on what type of commercial property you own, it can be a major draw for your visitors to provide space for children and pets. Consider adding artificial turf for a small dog run, invest in an attractive play set for young kids or provide yard games like corn hole for all ages. Keep in mind that parents will often go where their kids (and dogs) are happy, so this can be an easy way to attract patrons and drive your profits!

Grow a Garden

Gardens are an excellent way to bring people together. Attract newcomers with healthy, fresh-grown vegetables from your garden. If you own a restaurant, a culinary garden can cut down on costs while also giving your customers an attractive landscaping feature as they enter your property. Depending on how much sun the area gets, consider tomatoes, peppers, green beans, strawberries, and maybe some giant sunflowers for extra appeal.
A Commercial Landscape Expert
Do you have areas of your commercial landscape that are driving customers away? Contact the talented team of Pannone's Lawn Pros & Landscaping. We can transform your barren bed of mulch into a usable and attractive landscaping space.