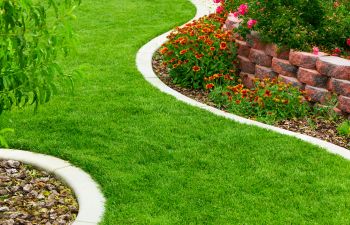 Has your backyard become overgrown or out of control during the summer months? Not only will your neighbors welcome a yard clean up, but you can also start taking advantage of a more functional yard after a little lawn maintenance and pruning. Pannone's Lawn Pros & Landscaping is a full service landscaping company that can not only design your dream backyard but they can provide a quality yard clean up service as well. A professional yard cleaning can include redefining your bed lines, heavy pruning of bushes and hedges and much more.
Choosing a one-time yard cleanup service to begin the Fall season offers a big return on a small investment. The most obvious advantage is clearly the aesthetic improvement of a more defined, functional and appreciated backyard. By letting a landscaping professional handle the heavy pruning and cleaning, it also makes it much easier for homeowners to maintain their landscape throughout the season. Many bushes and plants need proper pruning to be able to grow and thrive best. You can give your landscape the boost it needs to produce the appealing Fall foliage you had hoped for.
While cleaning up your yard, a landscaping expert can also identify problem areas in your landscape that may need attention. Pannone's Lawn Pros & Landscaping are equipped to provide a full range of services including drainage solutions, mulch installation, irrigation services and more to customers who want to give their yard the best opportunity for success this Fall. How does your yard look now? Could it use a clean-up?