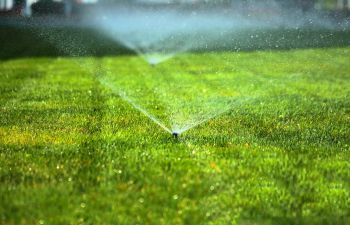 Watering is a primary component to a healthy and luscious landscape. While rainfall is the most natural form of irrigation, we can't always count on the right amount and frequency of watering from the sky. Intervention is necessary. Here are some tips on establishing the best irrigation methods for your particular lawn.
A custom irrigation system carefully considers the shape, size and type of lawn as well as how the landscape drains. These elements must be determined if you want to install an effective irrigation system for your property. Let a landscaping professional help you determine what your lawn needs as far as watering – this is not something you want to guess at.
When it comes to watering, timing is essential. Early morning is often best, as this is when there will be less evaporation due to heat. In addition, if the wind is strong, try to wait until it dies down to ensure an even watering application. While under-watering is detrimental to your lawn, it is just as damaging to overwater. Valued nutrients can be washed away from plants and grasses in such cases.
Basic Types of Irrigation
When it comes to how you water your lawn, you have options. There are four basic irrigation systems to choose from:
Sprinkler Irrigation –  a traditional method that mimics natural rainfall
Drip Irrigation – narrow tubes send water directly to the base of the plant. Best for flower beds and gardens.
Subsurface Irrigation – buried tubes direct water to plants, much like the drip irrigation method. Subsurface irrigation is often used in very dry climates or sandy soil where evaporation is a risk.
Surface Irrigation – the most common choice in today's homeowners. This method covers a lot of ground in a quick amount of time.
Regardless of which watering technique you choose, always be mindful of water conservation when possible. To ensure your grounds are watered when they actually need it, consider the latest technology sensors (called tensiometers) that detect dryness and trigger needed watering instead of an automatic timer.
Need more watering tips for your lawn? At Pannone's Landscaping & Lawn Pros, we specialize in custom lawn care. Let us evaluate your landscape and recommend the best irrigation system for a healthy and vibrant outdoor space. Call today for an estimate.